What Switzerland can learn from Denmark
When it comes to digital health, Denmark's health care system is one of the most advanced in the world: electronic patient files are used throughout the country, patients have access to their data at all times, and electronic prescriptions are offered nationwide. Could this be a model for Switzerland?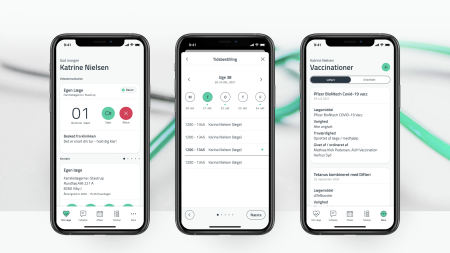 When it comes to the digitisation of health care, what can Switzerland learn from Denmark? With this question in mind, we headed to Copenhagen to meet the people behind the scenes at the Danish Health Data Authority. The Danish Health Data Authority is responsible for ensuring digital coherence in the country's health care sector. Its tasks include developing and operating national health registries, defining and maintaining standards for health care IT, and coming up with digital health care solutions.  
My takeaways from the visit: 
  
1. A clear commitment to a national basic infrastructure 
Unless a common basic infrastructure is in place, communication and secure data exchange between the different organisations in the health care sector pose a huge challenge. In Denmark, the government is responsible for delivering this basic infrastructure using public funding. This not only includes an electronic patient file, but also other services such as a shared medication record. Harmonised IT standards have made it easier to consolidate medical practice and hospital information systems. This means that there are a few hospital information systems in use throughout Denmark today – whereas there are over 60 in Switzerland. 

In turn, this has smoothed the path for a structured and digital exchange of data across different organisations. The example of Denmark demonstrates the impact that a national basic infrastructure can have. Even if the political parameters in this country are different – surely Switzerland also stands to benefit from a comparable basic infrastructure managed at national level? 
  
2. Shared medication record: inter-organisational medication management 
When we at Compassana talk to health care professionals about digital solutions in the Swiss health care system, the topic of medication management crops up very quickly: how can we ensure in the simplest way possible that we have the most up-to-date list of the medications that patients are on when they are admitted to hospital? Also, would it be possible to link the list of medications with ways of renewing prescriptions quickly and digitally? These are just two of the issues that keep coming up for discussion. And rightly so, because mistakes involving medication occur frequently and are not only dangerous for patients, but also costly for the health care system. 

Denmark has solved these problems with its shared medication record. The shared medication record provides both health professionals and patients with access to their medication lists. Health professionals can update the medication list, patients can obtain information on their current or previous prescriptions at any time – or contact their GP directly to have their prescriptions renewed. The shared medication record keeps the patient's list of prescriptions up to date at all times and across the various parts of the health care system. This is a powerful solution that Denmark has implemented to prevent incorrect medication and reduce the administrative burden on health professionals. 

3. From data to insights: it can only work with public trust 
When visiting a hospital in the Copenhagen region, I was struck by its excellent data base. For example, indicators such as waiting periods for certain procedures are quantified and reported – both over time and in comparison with other hospitals. Dashboards and insights are used to systematically identify and implement improvements to processes. Denmark has a long history of compiling data in the field of health care. Data on biological samples were collected as early as the 1960s. The country is currently focusing on the secondary use of medical data for planning and research purposes. 

The prerequisite for this solid data base is not only its technical infrastructure, but also the high degree of trust that the people of Denmark have in their government and its digital services. An insight that also applies to health care solutions in Switzerland: data protection has a strategic role to play – well beyond simply meeting statutory requirements. In order to earn and retain the trust of the general public, any health care solution in Switzerland would have to prove and demonstrate time and again that it can comply with rigorous standards in terms of data protection. That is why this topic is also of key importance to Compassana. 
 
My conclusion 
Political parameters in Denmark differ from those in Switzerland. Nevertheless, Denmark can teach us the following: when it comes to setting up a basic infrastructure, digital solutions for medication management and using data to further enhance the overall system, insights can be derived that will guide Switzerland on its own path to digitisation. My visit made one thing clear: Switzerland still has a lot of potential.